[As JK rightly highlights I stated ECS as 1. It should have been stated as a temperature. Using a typical figure for the effect of CO2 without feedbacks this would be 1C. However, that 1C figure is itself disputed. Prof Hermann Harde suggested a 30% lower figure based on latest HITRAN data which I understand would be ~0.6C. To avoid going into this complexity, please read ECS as meaning Equilibrium Climate Sensitivity relative to Equilibrium Climate sensitivity without feedbacks (~1C)]
After watching Andrew Dessler "Noddy" presentation on Equilibrium Climate Sensitivity, I was left in fits of laughter by the contrast of his shear arrogance & lack of experience with feedback systems and the appalling data in this graph:-

You could read anything you like into that and he did! He may as well have shown this:

However, as he's put it on line, I'm going to restrain myself further. Instead I will present a very simple argument that almost anyone should be able to understand showing that climate sensitivity is less than 1.
Proof climate sensitivity is less than one
I struggled to work out a way to explain to people who apparently have no comprehension of real systems how engineers can understand what is going on better than they just by looking at the system. Finally I hit on a very simple analogy:

Notice how the fence keeps the cows to one side. As a result, the fence affects which parts of the field the cows eat from. This in turn affects the grass. So, now I want to show that even if you only can see the grass, you can understand where the fences and barriers are just by looking at the pattern of grass.
Below is an aerial photograph of Guilwell Scout campsite. The image is of a marquee (a kind of tent). We cannot see what is inside this marquee in this photo, nor when it is taken down. But we can the grass. Can I tell without ever seeing the obstacles inside, the pattern of objects and places where people did and did not walk?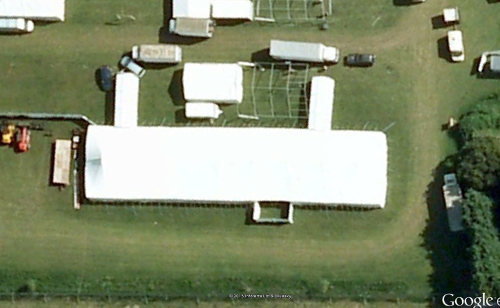 Below is the aerial photo of the same area. Here we can quickly see a lot of detail within the tent. We can immediately see that the two extensions to the top were entrances as they clearly show the browning of the grass characteristic of wear from where people have been walking. And by observing those areas which have not browned, we can also see areas within the marquee where people have not walked.
From this I can guess that there were tables at the top, bottom and centre.  Looking at the centre and bottom rectangular patches, I see that within the clearly defined rectangle, there are further irregular brown patches. These are typical of areas where people have been sitting for long periods and the inner brown patches are where their feet bave been resting on the ground. Also there was a large obstacle about 1/3 of the way from the left.
So, even though I have never seen the boundaries, I can tell where they are from the pattern of "data".  The boundaries dictate the patterns we see. And even if we had not seen the tent, we could still very clearly work out its shape.
So let us now look at the ice-age cycle:-
Here, like the clear line of the fence, there is also a line representing an upper boundary to global temperature in the ice-ages. But unlike the lower boundary which is changing, the upper one appears to be constant. This boundary is not a "hard" boundary in the sense that absolutely no cycle exceeds a particularly threshold, but like the cows at the fence reaching through, we can see from the way the cycles tend not to exceed a particular level that there is some mechanism that is stopping them from increasing temperature.
To put that in more technical terms, there is level corresponding to the current inter-glacial temperatures whereby further temperature rise become increasingly difficult. This shows that negative feedback is dominant in the interglacial.
That is to say that as temperatures increase, the Equilibrium Climate sensitivity will reduce tending strongly toward a negative feedback (ECS<1) as temperatures rise. Therefore if (as we are told) we are at an "unprecedented high", the scale of negative feedbacks will also be unprecedented. So it is very likely:
ECS < 1
I might add that independently the temperature signal shows none of the characteristics that would be expected of a system with large positive feedbacks, so I am reasonably confident this is right (to translate to Dessler's language: I HAVE NO DOUBT AT ALL THAT I'M RIGHT).